Golf Cart Bag with 14 Way Top Dividers Lightweight Golf Cart Bag with Shoulder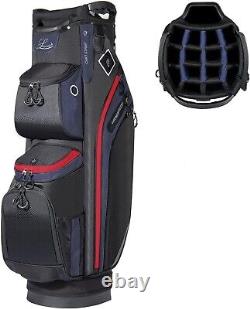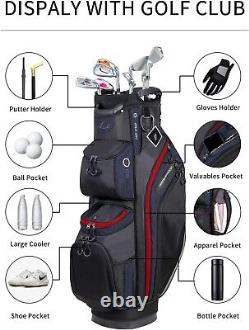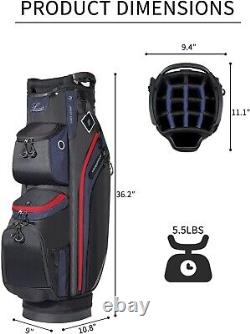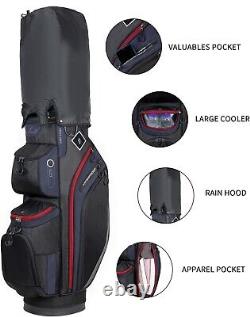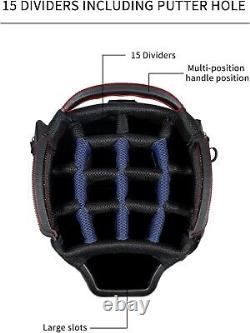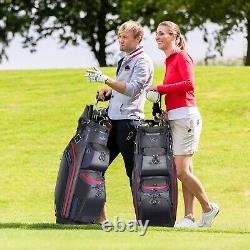 Can you tell the weight of the bag? It's lightweight, only 5.5 LBS.
The size is 12.8'' x 17.32'' x 41.14''. What's size of the cart bag? How many pockets in the golf bag?
There are 9 zippered pockets and 2 canvas pockets, 11 pockets to keep your needs at hand. 15 organizer dividers for all your clubs. 14-Way organizer divider top to hold all your clubs and keep every club from clunking. The integrated handle to the top cuff allow for easy access and maneuverability, you can load and unload the bag from the golf carts and cars easily in any direction. 11 POCKETS FOR VARIOUS STORAGE?
LITELEPH golf bag comes with 9 zippered pockets and 2 canvas pockets. 2 full length pockets for apparels you need in golf sports. 2 private pockets are equipped with a suede lining to store your valuables. Provide easy access to all contents.
Extra sweet cooler design keep your drinks cold for you can better hydrate. This cart bag comes with a sturdy base that keeps it stable in rough or greens.
The rain cover can better protect your clubs from the rain. The sides are designed to hang umbrellas and place glovesso that all your belongings at hand. Let you enjoy golf without any scruples!
The golf cart bag adopts 600D PVC fabric outside and 210D PU inside. Water-repellent fabric keep your clubs and belongs from liqulds, also it delivers you a smooth touch, High density material features splash-proof, rip-stop and durable. Make it easier for you to maintain the bag and extend the lifetime.
The cart bag combines lightness and durability, it is only 5.5 lbs. Lightweigt and easy-transport bag is very suitable for both men and women.
Start your golf journey with LITELEPH golf cart bag. Item Package Dimensions L x W x H. 37.75 x 14.1 x 10.3 inchesPackage Weight.
Polyurethane (PU), Polyvinyl Chloride (PVC), Suede.