Bennington Golf Quiet Organizer 12 Cart Golf Bag, Brand New GRAY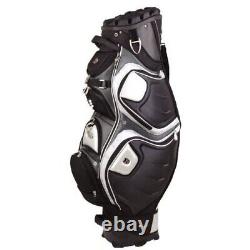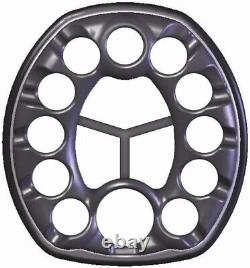 Bennington Quiet Organizer 12 Cart Bag system that helps protect club heads and graphite shafts. The organizer helps for faster play and makes it easy to spot missing clubs. Most damage happens where you least expect it...
Anytime the bag moves there is hard abrasive contact between club heads and shafts. This action can cause undetectable damage and weak spots in the shaft, which could ultimately alter the performance and eventually lead to breakage. Sleek styling and a functional layout of pockets the first quiet organizer system that keeps clubs completely secure by immobilizing clubs helps eliminate club heads and shafts from banging together and prevent rattling and noisy distractions. The top has 8 individual slots and (4 slot for Hybrids), graphite-friendly and waterproof organizer foam insert soft foam top will not crack!
Made of Metallic Carbon/ PU leather, nylon, polyester. 12 full length dividers, 3 roomy center wood dividers not full length.