Bat Caddy X4 Classic Manual Electric Golf Bag Cart Silver-12V 35/36Ah Battery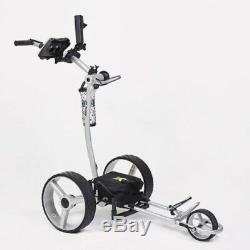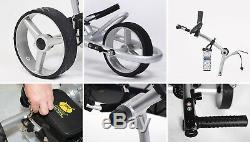 All caddies come with a free set of accessories including cup holder, umbrella holder & scorecard holder! Get a great product and support cancer research! Bat Caddy X4 Classic Manual Electric Golf Bag Cart Silver-12V 35/36Ah Battery. Are you one of those golfers who finally wants to enjoy the true nature and beauty of a golf course while getting some physical exercise at the same time by walking the course? Founded in 2004 and now in their 10th model year, a Bat-Caddy motorized golf cart will give you the true Tour Professional golfer's experience: walking the course while a ("robotic") caddy is carrying your bag. The Bat-Caddy X4 is our entry model manually controlled electric caddy at a very affordable price point. Like its remote controlled brother the X4R or the upscale version X4 Sport, it features a lightweight, European style high tech aluminum frame. The trolley is being operated manually with a seamless rheostat and cruise control and can be easily pushed even without battery power, so you will never be stuck out on the course.
Bat-Caddy electronic golf cart products are highly innovative and all key components are manufactured in factories certified to the highest ISO 9000 quality standards. Based on our track record Bat-Caddy caddies are the highest performance and most competitive carts in the global market for motorized golf push trolleys and represent what really counts in this market: A Great Balance between Functionality, Performance, Practicality, Quality and Value!
FEATURES: - High Tech Aluminum Alloy Frame and Stainless Steel Components - Extreme light weight, durable, European inspired, minimalistic design. Durable and strong components are the key ingredient for a high quality caddy and a lasting positive experience.
Bat-Caddy uses only high grade aluminum and stainless steel for its key components, such as the frame, gear boxes, motor housings and axles. Beware of anything plastic in these areas! Also the bag supports are aluminum and come equipped with strong bungee cords for a better bag fit. Powerful, Quiet, Fast Motor - The X4 features a powerful, quiet 200 Watt electric motor. Also the caddy will master any hill (30+ degrees climbing ability) and reaches a top speed of 5-6 mph.
Easy to use Multi-Function manual rheostat handle control, On/Off button, cruise control functions, a power and battery Charge indicator all integrated into a new small handle design, so you are in complete control of ALL Caddy Functions ALL the Time! - Off- Power Freewheeling Mode Feature - The caddy can be accelerated and slowed down via the handle rheostat control manually. In Off-Power mode it is completely free wheeling, so even if you ever run out of battery power you can push the X4 just like a manual push cart!!
Many caddies don't have this capability and you will be stuck on the course if you lose power! - Lightweight and Efficient Battery Options - The X4 can be run on four different batteries.
It comes standard with a 22Ah sealed lead acid (SLA) battery good for at least 27 holes per charge. It's more expensive, but if weight is an issue, this is a great option, and it also lasts at least three times as long. Large Diameter Rear Drive Wheels with Magnesium Look Rims for easy maneuverability, smoother ride and superior traction - Smooth turning, great traction on wet inclines and NEVER left out on the course with a flat tire! The X4 rear wheels have been designed with a larger diameter (11.5") and come with a strengthened concave rubber tread (3/4") which minimizes vibrations and improves turning and abrasion resistance on rough surfaces. Wheels are easily removed via a quick release mechanism for storage or cleaning.
Seamless Speed Cruise Control Engages wheels slowly- The Bat-Caddy won? T jump or get away.
This is an important feature since many "cheap" caddies don't allow you to operate them in a continuous smooth mode via the seamless rheostat control. Cruise Control Function: Allows you to stop and restart the caddy with a press of a button on the handle, so you don't have to adjust the speed after every stop. New adjustable handle design offers seamless adjustment from 33-45 in height for various body types and preferences. Tracking Adjustment - In order to optimize tracking, the X4 comes with a front wheel tracking mechanism. Folded caddy is only a 33"x20"x10 package and will fit into the trunk of even the smallest sports car!
- High quality and innovative accessories, such as scorecard holder, umbrella holder, beverage holder, are included. Additional accessories such as GPS holder, rain cover, or sand dispenser bottle can complement the X4 package. At Give 5 To Cancer Inc. We are committed to providing our customers with the highest quality products and customer service while supporting our cancer cause. The donations go to support patient care and to find a cure for cancer in our lifetime. The team at Give 5 to Cancer also hosts a charity golf event, The Volkowitsch Open, each spring that donates to both of the foundations, as well as raising cancer awareness. Besides donating proceeds and hosting an annual charity event, our founder, Loren, is on The Bismarck Cancer Center Board here in Bismarck, and volunteers monthly to help support the foundation. Our team at Give 5 to Cancer walks the walk when it comes to volunteering, donating, and raising awareness for the cancer cause. We invite you to browse through our store and shop with confidence. The condition must be the same as it was when delivered to you from the warehouse.
Additionally, Give5ToCancer ships merchandise to Canada and Mexico, and all other international locations. Customer must please allow appropriate amount of time 2-3 weeks for items to arrive to international addresses. Such charges are the responsibility of the recipient of your order and vary from country to country.
The item "Bat Caddy X4 Classic Manual Electric Golf Bag Cart Silver-12V 35/36Ah Battery" is in sale since Friday, June 22, 2018. This item is in the category "Sporting Goods\Golf\Golf Clubs & Equipment\Push-Pull Golf Carts". The seller is "give5tocancer" and is located in Bismarck, North Dakota. This item can be shipped to United States, South africa.
Brand: Bat Caddy
MPN: X4Classic-Silver