2021 Bat Caddy BLACK X3R Remote Control Electric Golf Bag Cart/Trolley + EXTRAS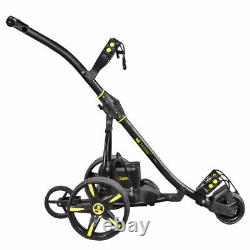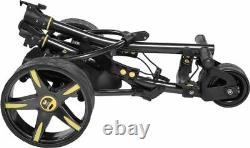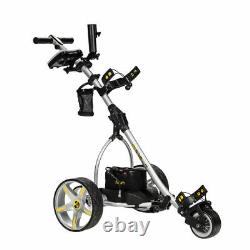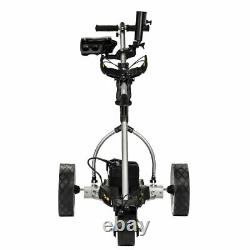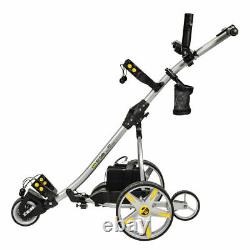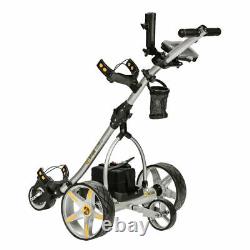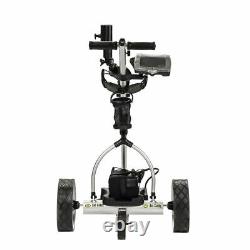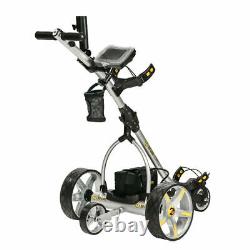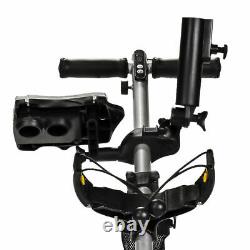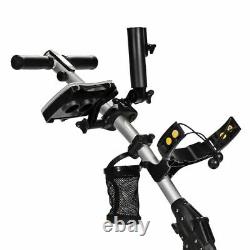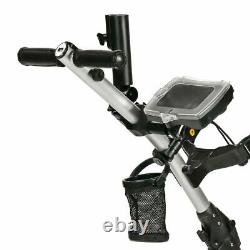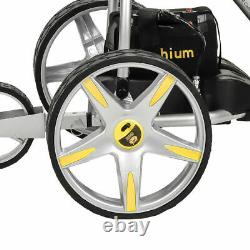 2021 X3R Electric Remote Control Golf Trolley by Bat Caddy. LOW PRICE GUARANTEE, IF YOU FIND A BETTER PRICE, LET ME KNOW AND WE WILL BEAT IT! Includes Free Accessories: SCORECARD HOLDER, CUP HOLDER, and UMBRELLA HOLDER! CHARGER and BATTERY ALSO INCLUDED.
Walk the Golf Course and gain better health and more stamina. It can even help you improve your golf game. Brand : Bat Caddy Model : X3R Color : Black/Black Condition : NEW. X3R Electric Remote Control Golf Caddy, Golf Trolley, Golf Cart by Bat Caddy.
The price includes the Bat Caddy X3R, Remote Control, and Battery w/ battery charger. Entering its 11th model year the X3R has been fine tuned, performance optimized and comes equipped with every conceivable feature and functionality at a world-class quality and most competitive price point. The X3R is now available with a standard powerful 35 Ah sealed lead acid battery or with an ultra-light, long lasting lithium battery. The trolley can also be operated manually with a seamless rheostat control and can be easily pushed even without battery power, so you will never be stuck out on the course. Bat-Caddy® electronic golf cart products are highly innovative and manufactured to the highest ISO 9000 quality standards.
Based on its track record the X3R is one of the most high performance and competitive carts in the global market for motorized golf push carts and it represents what really counts in this market: A Great Balance between Functionality, Performance, Practicality, Quality and Value! Bat Caddy X3R Model Features at a Glance.
High Tech Aluminum Alloy S-Frame and Stainless Steel Components - Light weight, durable, best looking in the Industry. Frame lock made out of reinforced ABS. Durable and strong components are the key ingredient for a high quality caddy and a lasting positive experience. Bat-Caddy uses only high grade aluminum and stainless steel for its key components, such as the frame, supports, axles, wheel cores etc. Caddy now available in three striking frame colors: Space Silver, Matte Black, Glossy White in combination with 3 wheel colors: silver, black, white with yellow inlays.
Powerful, Quiet, Fast, Independent Dual Motors - The X3R features a pair of powerful 200 Watt, quiet DC electric motors. Works and lasts like a tank!! Easy to use Multi-Function Remote Control featuring directional controls, timed advance function and effective brake/stop functions, as well as a manual rheostat handle control, On/Off buttons, timed advance (10, 20, 30 y/m), cruise control function, USB port and 3-Stage Battery Charge Indicator all integrated into a new ergonomically designed T-Handle, so you are in complete control of ALL Caddy Functions ALL the Time! Electronic Brake System and Off- Power Freewheeling Mode Feature - The caddy can be slowed down or stopped both remotely or manually and has motor resistance slowing it down going downhill. However, in Off-Power mode it is free wheeling, so even if you ever run out of battery power you can push the X3R just like a manual push cart!!
Many caddies don't have this capability and you will be stuck on the course if you lose power! Remote and Manual Speed Control - Forward, Sideways AND REVERSE! - You set the pace up to an amazing 80-100 yards (meters) range (10-20 yards operating range recommended)! Note: our remote controls have the official authorization for radio frequency emitting devices from the Federal Communications Commission (FCC).
Beware of caddies which are not authorized. Seamless speed adjustment on both the handle and remote control ALSO: Features a timed advance function for 10, 20 and 30 yards/meters controlled through both remote and handle. Efficient 12V 35Ah Battery - Sufficient for a minimum of 27-36 holes on a full charge! We only use the highest quality batteries and won't go below 33Ah! Beware of anything less on a remote caddy!
High Tech, Rubberized Front and Wide Track Rear Drive Wheels with Magnesium Look Rims for easy maneuverability and superior traction - Smooth turning, great traction on wet inclines and NEVER left out on the course with a flat tire! The front wheel comes with rounded edges and strengthened rubber tread optimizes turning and abrasion resistance on rough surfaces. A retractable rear stabilizer wheel to prevent tipping over is included in the price (no hidden charges like others)! Torque Control Engages wheels slowly with multiple speed control- The Bat-Caddy wont jump or get away or stop while turning. This is an important feature since many "cheap" caddies don't allow you to operate them in a continuous smooth mode but have to stop for any command you send them through the remote and then turn very abruptly!
The Bat-Caddy also does not make a disturbing beeping noise when turning. Handle - The newly designed T-Handle controls include a 3 LED battery charge indicator, an On/Off button, the timed advance function controls, cruise control function, On/Off button, as well as the manual seamless speed control rheostat button. This handle emphasizes the high tech design of the X3R and gives you total control over the caddy at all times. Weatherproof - The Bat-Caddy X3R has a weatherproof design, i. The heart of the electronics, the controller box, is installed in a water resistant sealed plastic compartment underneath the battery, so no water can penetrate from below or above.
The handle design and the wiring are equally water resistant, so your caddy will be reliable even in the wettest conditions. We guarantee that you will quit before the X3R does! High quality and innovative accessories, such as scorecard holder, umbrella holder, and cup holder are included.
Additional accessories such as seat, cooler bag, carry bag, rain cover, Smartphone/GPS holder or sand dispenser can complement the X3R package. Plus: Bat Caddy has the best customer service in the industry! Speed Control : FCC Authorized Remote Control (range up to 80-120 Yards) plus Manual Control, Function: Forward, Reverse, Left & Right, Stop, Timed forward advance function: 10, 20, 30 yards, Cruise Control, USB Port. Motor Power : 2 x 200 Watt (400 Watt), 12 V DC Electric. Drive Train: Rear Wheel Direct Drive, Dual independent transmission.
Battery : Power: 12V, 35 Ah Sealed Lead Acid, Dimensions: 8" x 5" x 6, Weight: ca. Average Charge Time: 4-6 Hours, Lifetime Charges: About 225-250, Trickle Charger. Weight : Net Weight Caddy: 23lbs. Net Weight SLA Battery: 24lbs. Distance/Range : 13 m/27+ Holes/6-8 Hours.
Dimensions : Unfolded : Length: 43", Width: 24.5", Height: 39. Dimensions : Folded : Length: 32", Width: 22.5", Height: 12. Rear Wheels : Airless, rubberized thread, Quick Release Mechanism, Anti-Tip Wheel included. Front Wheels : Airless, rubberized tread, Tracking Adjustment. Materials: Frame : Aluminum, Stainless Steel, Bag Support: ABS, Nylon.
The item "2021 Bat Caddy BLACK X3R Remote Control Electric Golf Bag Cart/Trolley + EXTRAS" is in sale since Thursday, April 8, 2021. This item is in the category "Sporting Goods\Golf\Golf Clubs & Equipment\Push-Pull Golf Carts".
The seller is "batcaddysports" and is located in Lebanon, Tennessee. This item can be shipped to United States.
Model: 2021
Custom Bundle: No
Modified Item: No
Cart Type: Electric Remote Golf Caddy
Features: Umbrella Holder
Color: Black
MPN: X3R
Motorized: Yes
Item Weight: 47 lbs
Brand: Bat Caddy
Manufacturer Warranty: 1 year