2020 Bat Caddy X8R Remote Control Electric Golf Bag Cart/Trolley + Accessories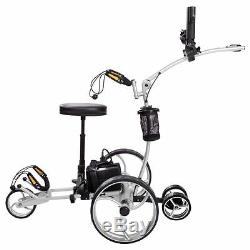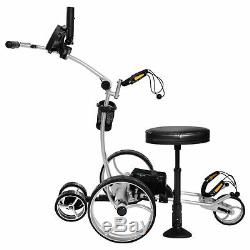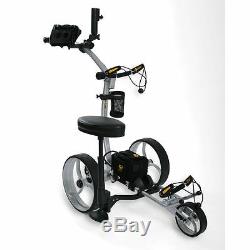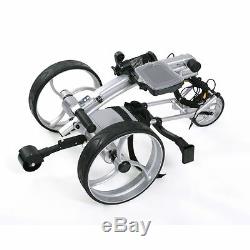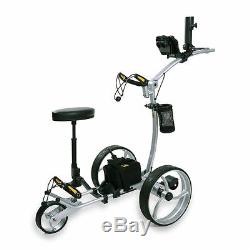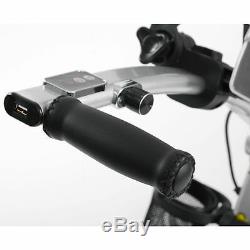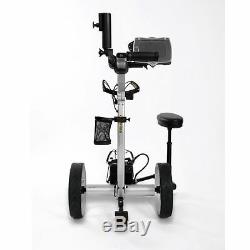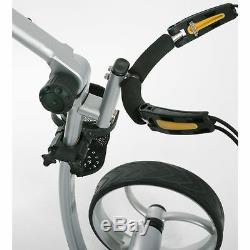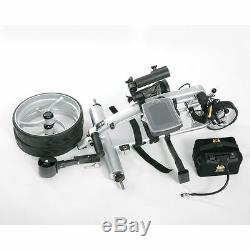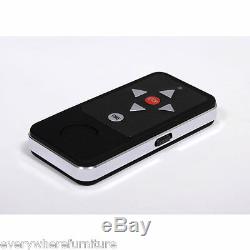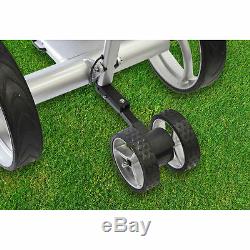 2020 X8R Electric Remote Control Golf Trolley by Bat Caddy. LOW PRICE GUARANTEE , IF YOU FIND A BETTER PRICE, LET ME KNOW AND WE WILL BEAT IT! Includes Free Accessories: SCORECARD HOLDER, CUP HOLDER, UMBRELLA HOLDER and MOUNTAIN SLAYER ANTI-TIP WHEEL! CHARGER and BATTERY ALSO INCLUDED. Walk the Golf Course and gain better health and more stamina. It can even help you improve your Golf Game. Brand : Bat Caddy Model : X8R Color : Silver/Black Condition : NEW.
Authorized Dealer of Bat Caddy. X8R Electric Remote Control Golf Caddy, Golf Trolley, Golf Cart by Bat Caddy. The price includes the X8R Bat Caddy, Remote Control, and Battery w/ battery charger.
The newly designed 2019 Bat-Caddy X8R is our latest innovative and unique remote controlled caddy. It features a lightweight high tech aluminum frame weighing in at only 22 lbs. It has an easy one step folding design, folding into a package that is smaller than most regular push carts.
It is propelled by two powerful independently controlled quiet 200W motors, a wide range FCC authorized remote control system which gives you full control up to 90-120 yards. It comes either with a highly rated 12V 35/36Ah sealed lead acid (SLA) battery or with a powerful, long-lasting, very light (5-6 lbs), environmentally friendly 12V Lithium(LI) battery. The trolley can also be operated manually with a seamless rheostat and cruise control and can be easily pushed even without battery power, so you will never be stuck out on the course. Bat-Caddy® electronic golf cart products are highly innovative and all key components are manufactured in factories certified to the highest ISO 9000 quality standards. Based on our track record Bat-Caddy caddies are the highest performance and most competitive carts in the global market for motorized golf push trolleys and represent what really counts in this market: A Great Balance between Functionality, Performance, Practicality, Quality and Value!
High Tech Aluminum Alloy Frame and Stainless Steel Components - Extreme light weight, durable, European inspired design. Durable and strong components are the key ingredient for a high quality caddy and a lasting positive experience.
Bat-Caddy uses only high grade aluminum and stainless steel for its key components, such as the frame, motors, housings and axles. Beware of anything plastic in these areas! Also the bag supports are aluminum and come equipped with stylish extra wide bungee cord extensions for a better bag fit.
Powerful, Quiet, Fast, Independent Dual Motors - The X8R features a pair of powerful and quiet 200 Watt DC electric motors, inconspicuously hidden protected in a small aluminum tube. If you did not know it, you would not know the motors are there!
Also the caddy will master almost any hill (30+ degrees climbing ability) and reaches a top speed of 5.5 mph+. Easy to use Multi-Function FCC certified Remote Control featuring directional controls and effective brake/stop functions and a 10, 20, 30 distance timer, as well as a manual rheostat handle control, On/Off buttons, cruise control functions, a Power and Battery Charge Indicator and a USB port all integrated into an new even smaller handle design, so you are in complete control of ALL Caddy Functions ALL the Time! Electronic Brake System and Off- Power Freewheeling Mode Feature - The caddy can be slowed down or stopped both remotely or manually. It has automatic motor resistance to slow it down going downhill.
However, in Off-Power mode it is free wheeling (mechanical unlock system disengages wheels completely from axles), so even if you ever run out of battery power you can push the X8R just like a manual push cart!! Many caddies don't have this capability and you will be stuck on the course if you lose power! Remote and Manual Speed Control - Remote Forward, Sideways, AND REVERSE AND STOP! - You set the pace up to an amazing 100-120 yards (meters) range (5-20 yards operating range recommended)!
Seamless speed adjustment on both the handle and remote control. Note: our remote controls have the official authorization for radio frequency emitting devices from the Federal Communications Commission (FCC). Beware of caddies which are not authorized. Also timed advance forward feature (10, 20, 30 yards/meter) via remote control or handle function. Efficient & Powerful 12V 35/36Ah SLA or 12V Lithium Battery - Sufficient for a minimum of 27+ Holes (SLA) or 36 Holes (LI) or more on a full charge!
We only use the highest quality batteries. This new enviromentally friendly lithium battery weighs only 6 Lbs is a third of the size of SLA batteries and lasts at least three times as long while giving you a 36+ hole range on a single charge.
Large Diameter Rear Drive Wheels with Magnesium Look Wave Style Rims for easy maneuverability, smoother ride and superior traction - Smooth turning, great traction on wet inclines and NEVER left out on the course with a flat tire! The X8R rear wheels have been designed with a larger diameter (12.5") and come with a strengthened concave rubber tread (3/4") which minimizes vibrations and improves turning and abrasion resistance on rough surfaces. Wheels are easily removed via a quick release mechanism for storage or cleaning.
They also feature a newly designed strengthened wheel/axle connection system. Seamless Speed Control Engages wheels slowly - The Bat-Caddy wont jump or get away. This is an important feature since many "cheap" caddies don't allow you to operate them in a continuous smooth mode via the seamless rheostat control. A removable rear stabilizer wheel to prevent tipping over on hills is included (no hidden charges like others)! Torque Control Engages wheels slowly with multiple speed control - The Bat-Caddy wont jump or get away or stop while turning.
This is an important feature since many "cheap" caddies don't allow you to operate them in a continuous smooth mode but have to stop for any command you send them through the remote and then turn very abruptly! The Bat-Caddy also does not make a disturbing beeping noise when turning. New adjustable handle design offers seamless adjustment from 33-45 in height for various body types and preferences. Tracking Adjustment and Anti-Tip Wheel - In order to optimize tracking, the X4R comes with a front wheel tracking mechanism. It is also factory equipped with a removable rear anti-tip wheel to prevent backward tipping in hilly terrain. Easy One Piece One Locking Knob Fold Design - collapses into one piece (not three like others) in seconds to fit in any vehicle trunk - No engineering degree required!!
Folded caddy is only a 33"x 23.5" x 12 package and will fit into the trunk of most small sports cars! High quality and innovative accessories , such as scorecard holder, umbrella holder, beverage holder are included. Additional optional accessories such as Seat, GPS holder, rain cover, carry bag, and remote control clip hanger can complement the X8R package. FCC Authorized Remote Control (range up to 80-120 Yards) plus Manual Rheostat Control, Function: Forward, Reverse, Left & Right, Stop, Cruise Control, Timed Advance Function (10, 20, 30 m/y); USB Port. Motor: Power: 2 x 200 Watt (400 Watt), 12 V DC Electric.
Drive Train: Rear Wheel Direct Drive, Dual independent transmission, Free Wheeling when off power. Output: 12V/3A-4A DC Trickle Charger. Net Weight Caddy: 22 Lbs (11kg).
Net Weight Battery: 24 Lbs (11 kg). Total Net Weight: 46 Lbs.
Speed: 5.5 - 6 m/h (9.6 km/h). Distance/Range: 7-10 m/27-36+ Holes/8-10 Hours.
Maximum Load: 77 Lbs (35kg). Rear Wheels: Airless, rubberized thread, Quick Release Mechanism. Diameter: 12.7.5, Anti-Tip Wheel Assembly included. Front Wheel Airless, rubberized tread, Tracking Adjustment. Frame: Aluminum & Stainless Steel. Colors: Oxidized Silver, Black, or White. Benefits of a using and Electric Golf Caddy instead of renting a Golf Cart. Save Energy for your Game - 98% of the time expended during a round of golf is getting from one shot to the next. Using a Bat-Caddy instead of a push cart allows you to save your energy for the game (just like the pros)! Preventing Strain - Golfers who carry their golf bags, or use a Push cart are exposing their back and shoulders to strain. You still keep fit by walking the course but avoid the strain that comes from lugging a bag or using a push or pull cart. Staying Fit, Improving Overall Health and Losing Weight - Walking the course with a Bat-Caddy can contribute to your general health and well being through CardioVascular exercise you can burn up to 50% more Calories compared to riding in a golf cart. Using a Bat-Caddy may help you feel fitter, stay more focused, lose weight, and play better.
Protect the Course - According to a 2004 USGA report, caddy carts are less damaging Less Impact on fairways, especially in wet conditions. Speed Up Game -Contrary to common belief, electric caddies can also speed up the game. A Bat-Caddy can reach any spot on the course without leaving marks and can be moved straight from one point to the next. Stay connected with the Course - Walking the course keeps your body moving, warm and alert resulting in you being more in tune with the rhythm of the game and more concentrated and focused on your golf swing. Enhance Companionship - Walking the course with your partners also enhances the social aspect of the game.
After all, the game was meant to be played walking. Imagine how a better rhythm, improved fitness and a higher energy level could impact your game. Most likely in a lower handicap! 1 Year on Parts & Labor. 180 Days/150 charges on battery.
We can provide you with contact information if none is provided. This Item Ships to the 48 Contiguous United States, No PO, FPO, APO Boxes. The item "2020 Bat Caddy X8R Remote Control Electric Golf Bag Cart/Trolley + Accessories" is in sale since Wednesday, April 22, 2020.
This item is in the category "Sporting Goods\Golf\Golf Clubs & Equipment\Push-Pull Golf Carts". The seller is "batcaddysports" and is located in Lebanon, Tennessee. This item can be shipped to United States.
Color: Silver
Model: 2020
Type: Electric Remote Golf Caddy
Features: Scorecard Holder
MPN: X8RLA35SLX
Brand: Bat Caddy